Minitube 2.3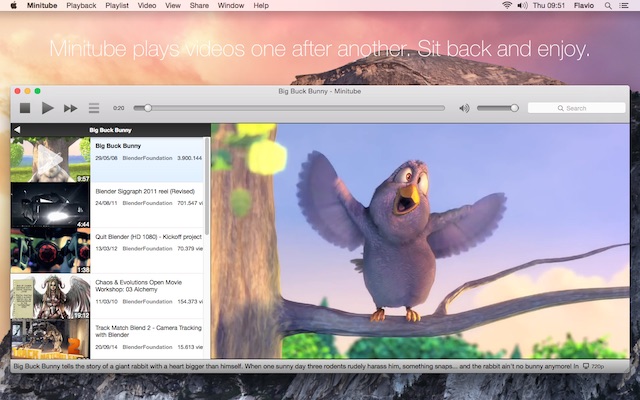 Hi all, this release brings many under-the-hood changes. The biggest one is the switch from QuickTime to VLC as the multimedia engine on the Mac. Windows users also get a major update to the VLC libraries used which should solve many reported issues. The switch to a newer VLC also brings much better and reliable video seeking and faster video start, especially with longer ones.
Feature-wise, Minitube can now create video snapshots (i.e capture frames) at full resolution just by pressing a key. Bloggers and social media users will probably put this feature to good use. The search suggestions that popup while you type received some usability and style enhancements.
Minitube now supports Mac OS X Yosemite (10.10) and works again on Snow Leopard (10.6).
On the Linux side, I decided to stop publishing Minitube via the Ubuntu Software Center: updates were approved too slowly and getting feedback was always hard. Starting from this release, I'll take care of .deb packages directly on this site.
Take video snapshots at full resolution
Faster and more reliable seeking
Faster video start with longer videos
Slide transition in playlist navigation
Make the volume handle red when volume is zero
Enhancements to the search suggestions
The Mac version is now 64bit and uses the VLC engine to play videos
Fixed minor style issues with Mac OS X Yosemite 10.10
Restored compatibility with Mac OS X Snow Leopard 10.6
The Windows version has been updated to the latest VLC
The Ubuntu & Debian version is now shipped as a .deb on the site. Goodbye Ubuntu Software Center!
New and updated translations