Minitube 2.1 adds channel subscriptions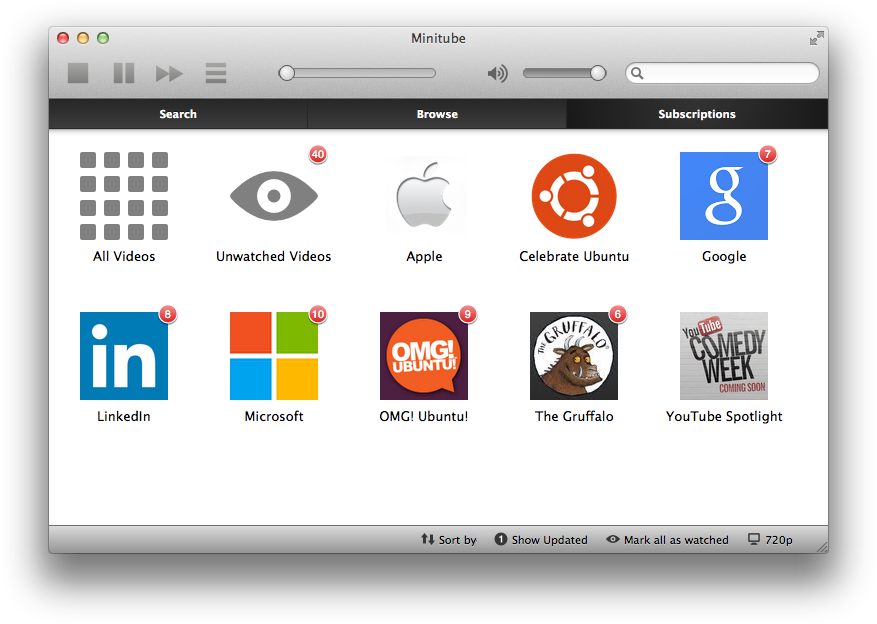 You can now subscribe to YouTube channels and be notified of new videos. This does not require a YouTube account. It's all done by Minitube.
This release also restores playback of VEVO videos that stopped working a few days ago.
Other minor changes include:
Move window by dragging from inside the video area
Faster startup
Optimizations and tweaks to the playlist
Float on top icon was missing on Mac & Windows
Compact mode window fixed aspect ratio on Mac
Ubuntu notifications
Fixed compact mode video cropped with very small window
Fixed long words or URLs in the video description causing a window resize
Fixed crash when resizing the playlist to a very small width
Fixed skipping to the next video on Windows & Linux
Starting with this version I'm distributing Minitube for Ubuntu directly on the Ubuntu Software Center, personally taking care of updates. This will hopefully allow for an easier to install and more up-to-date Minitube for Ubuntu users. Just wait a few days until the package is reviewed by the USC people, then uninstall the outdated minitube package and install minitube-ubuntu.