Minitube 2.2
I rushed out this release because of playback problems with some YouTube videos. I had minor fixes and improvements ready so they're included as well.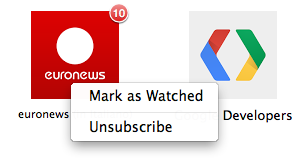 Previously one could not unsubscribe from a deleted channel. This is fixed by adding a context menu with an Unsubscribe command and while I was there I added Marked as Watched too.
For all the geeks, there's a new --stop-after-this command line option so you can gracefully end playback from a SSH shell. For Linux people there's a corresponding GNOME 3 action.
Next developments for Minitube will include porting it to Qt5 and replacing Phonon with libvlc. Have a great summer!
Subscriptions context menu: Unsubscribe, Mark as Watched
Added –stop-after-this command line switch
Added Stop After This Video Unity & Gnome 3 action
Fixed painting errors when scrolling playlist on Linux
Fixed bug with dragging playlist items from the thumbnail
Fixed some videos not playing
Updated translations