Minitube 1.8 released
This release brings a much enhanced Compact Mode. The Compact Mode window now remembers its own size and position and can be made smaller than before. It also stays automatically on top of other windows.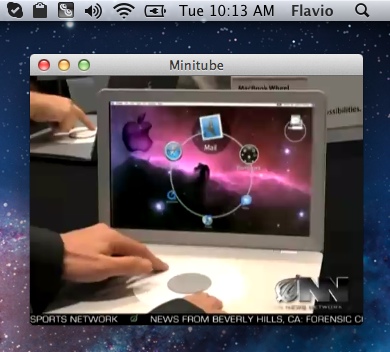 The video title and description that Minitube briefly shows at video start now have an adaptive font size so they look good both in Compact Mode and Full Screen.
As for the recent Musictube release, Ubuntu and GNOME 3 users get a shiny new Quicklist.
This release fixes a bug with videos not being downloaded on Linux with Qt 4.8 and works around GStreamer stopping playback in the middle of a video.
Unfortunately many recent Linux distributions (including Ubuntu 12.04) have a GStreamer bug that prevents many applications from playing MPEG4 videos. While we wait for the bug to be fixed, here's a simple workaround.
Full changelog:
Enhanced Compact Mode: window on top, can be made smaller and remembers its own position
Adaptive video title font size
Unity & GNOME 3 actions (aka Quicklists)
Mac Sandbox support
Added missing menu item to restore hidden window, as per the OS X HIG
More responsive UI while loading videos on the Mac
Selecting a recent keyword now also sets the searchbox text
Selecting a suggestion now also sets the searchbox text on the Mac
Fixed duplicate channel names in suggestions popup
Fixed playback not starting or being interrupted on Linux
Fixed search box being erroneously focused on the Mac
Fixed wrong localization of some menu items on the Mac