Musictube 1.2 released
This Musictube update fixes a critical crash bug on Linux and brings Last.fm scrobbling as previously seen in my other app, Musique.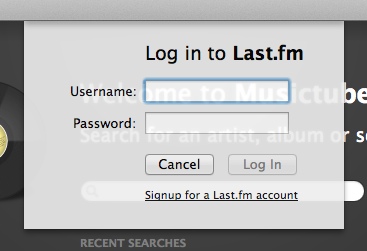 Another small feature is desktop notification support on the Mac (requires Growl 1.2.x) and GNOME. Notifications appear only when the Musictube window is not active. There is no point displaying them when you're already looking at Musictube.

Ubuntu users will love the Unity quicklist.
Unfortunately Ubuntu 12.04 shipped with a GStreamer bug that prevents many applications from playing MPEG4 videos. While we wait for the bug to be fixed, here's a simple workaround.
And here's the full changelog:
Last.fm scrobbling
Desktop notifications on Mac (Growl 2.x) and GNOME when window is not active
Unity & GNOME 3 actions (aka Quicklists)
Mac Sandbox support
More responsive UI while loading videos on the Mac
Fixed wrong localization of some menu items on the Mac
Fixed search box being erroneously focused on the Mac
Fixed crash while playing on Linux with Qt 4.8
Fixed playback not starting or being interrupted on Linux